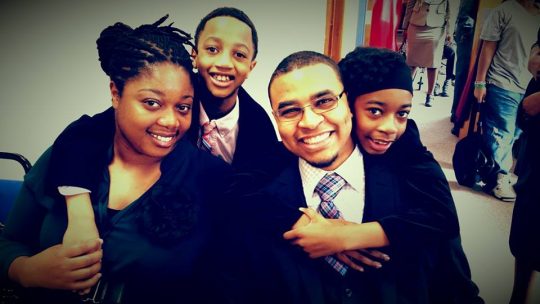 Carl Alexander Brewer, I
General Information
Pastor Brewer was born in Wilmington, DE, and raised in Bridgeton, NJ.  He has an older sister, two older brothers who are also pastors, and two younger brothers.  He gave his life to the Lord at the age of twelve and has been preaching the gospel ever since.
Education
He graduated from Oakwood College (now University) in 2003 with a Bachelors degree in Theology.  He completed his Masters of Divinity from Andrews University in 2006.  
Family
While at Oakwood College, he met and married his best friend, Diane Murray of Ontario, Canada. On March 4, they celebrated 12 years of marriage. While attending Andrews University, their two wonderful children were born, Danyel age 10, and Carl, II age 9.
Pastoral Ministry
Since leaving the seminary in 2006, Pastor Brewer has served as the Associate Pastor at the historic Trinity Temple SDA Church in Newark, NJ, under the legendary leadership of Dr. Norman Miles, Sr.  On June 19, 2010, he was installed as the pastor of the Irvington SDA Church, in Irvington, NJ. On January 1, 2014, he began his exciting ministry journey at Metropolitan SDA Church.
Pastor Brewer has been preaching the gospel since the age of twelve.  He has conducted seminars and training in evangelism, youth ministry, youth evangelism, and a host of other topics.  He has preached on the radio and television.  He has preached in Madagascar, Guyana, Trinidad, Jamaica, Costa Rica, Canada and throughout many states in the United States.
Social Concerns
He has also demonstrated a concern for social issues.  He has marched against violence in our inner cities, participated in feeding the homeless programs, mentored at-risk youth, protested in front of Paramount Pictures against the illicit sexuality and violence portrayed in movies, and helped develop innovative ministries such as: HIV/AIDS ministry, ministering to former prisoners and their children, and has ministered to former and current gang members.  Recently, because of his service in the city of Newark, NJ, he was asked to serve as a member of the President's Advisory Council for Somerset Christian College (now Pillar College) in Newark, NJ.  He was also asked to serve as an Irvington representative on a national panel dealing with the plight of the urban Black family. 
Life Goal
Pastor Brewer is a family man.  He finds his greatest joy in spending time with his wife and children.  His goal in life is to be an example of how a Christian man ought to live.